The Klein Karoo – An Untouched Wedding Destination
01 / 02 / 18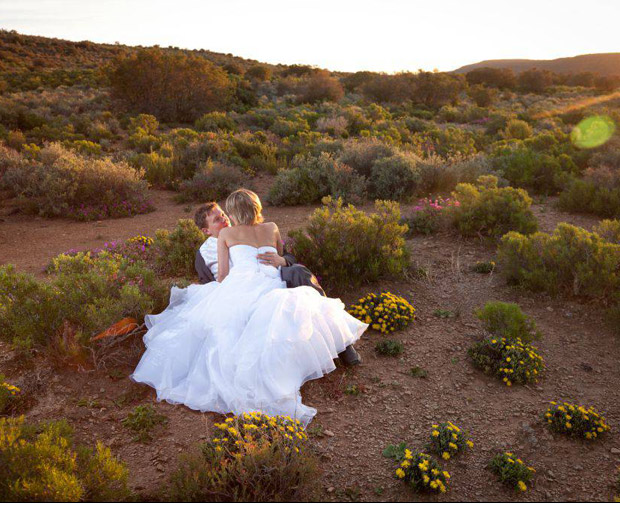 South Africa offers a wealth of destinations - each one ideal for hosting a wedding in its own unique way. The Klein Karoo is special for its untouched and pristine landscape. Part of the Western Cape Province, the region is characterised by its semi-desert-like vegetation. While dry, arid conditions may be most associated with the region, it offers so much more to prospective wedding couples. Think beautiful views, pictures taken amid wildlife, historical towns and buildings and dramatic sunsets.
Klein Karoo weddings are truly an experience unlike anything you can possibly imagine. The vast stretches of untouched land may appear stark and barren, but the area overflows with natural beauty and attractions to keep guests occupied – game farms, hot water springs, hiking and cycling trails, and night skies unadulterated by city light. (Never have I quite seen starry skies as I have in the Karoo – it's truly a spectacle!)
More so, the Klein Karoo is dotted with small, historic towns, all of which have many stories of their own to tell. Each has a character of its own –  and one of them might well be the perfect Karoo venue for your most special day.
The most popular venues are located around the Matjiesfontein, Touws River, Oudtshoorn and Beaufort-West areas, to name but a few. Offering five-star lodges and guest farms, getting married in this seemingly deserted land offers far more comfort and romance than one would imagine.
Given that the Klein Karoo is a popular tourist destination, it offers plenty accommodation for your guests. Why not encourage a getaway wedding, making the wedding celebration span an entire weekend, with guests arriving on a Friday afternoon and only departing on a Sunday? (If the wedding venue is outside the town itself, it would be important to ensure your guests have transport - or you could hire a shuttle company to transport your guests to and from the venue.)
A Karoo wedding may not be for everyone, but the overall experience will be one not easily forgotten, especially if you link your wedding theme to the location – between mountain peaks or desert shrubbery – through your choice of attire, menu, décor, flowers and music.
Top venues to consider:
Lord Milner Hotel
*See wedding album captured by Adele Kloppers Photography
Karoo 1
*See wedding album captured by Agape-Studio Video & Photo Productions
De Opstal
*See wedding album captured by Michelle Photography
Surval Boutique Olive Estate
*See wedding album captured by Christine le Roux Photography
Cabrieres
*See wedding album captured by Claire Nicola Photography