Our Top Tulbagh Wedding Venues
27 / 09 / 17
Discover the rural village of Tulbagh nestling in its bowl of magnificent mountains and a serene, unspoiled valley. In itself a desirable destination, the historic town provides an excellent base from which to explore the Cape Winelands.  A small town which has fast become an attractive getaway for city-dwellers and perfect wedding destination for both national and international couples.
This historic town is situated on one of the most fertile valleys in the country, producing notable wines, fruit farms and overall, a truly spectacular setting.
Offering visitors an easy-going hospitality, beautiful scenery and a vast selection of wedding venues, Tulbagh is a definite hot spot and one of our firm favourite wedding destinations.
In today's blog we aim at narrowing down the long list of breathtakingly beautiful wedding venues that Tulbagh and its surrounding countryside has to offer. Listed in no particular order, we hope that our list makes your selection process a little easier.
Mont Rouge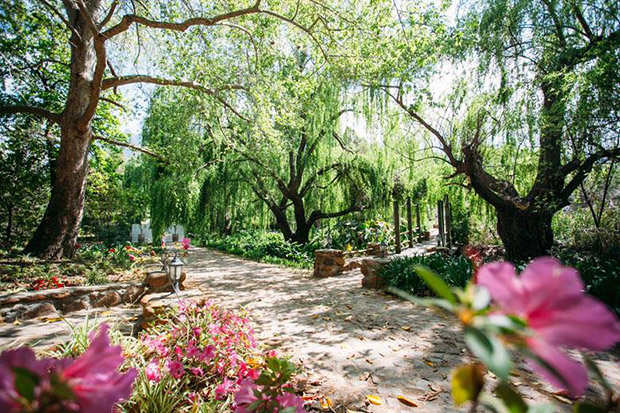 Mont Rouge, a hidden gem and working fruit farm can be found nestled between the towering Winterhoek Mountains. This lovely farm, surrounded by nature and friendly staff is the perfect place to create everlasting memories.
This exquisite farm setting is perfect for a garden wedding ceremony, or garden cocktail reception, and is yours to use exclusively. One can also entertain guests in the indoor reception hall, which can accommodate up to 180 guests seated.
With accommodation on-site, Mont Rouge offers a unique weekend wedding getaway to you and our guests, where you will be able to experience how the true essence of a wedding celebration ought to be. Offering the perfect getaway – and will give your guests the opportunity to spend quality time in the tranquil surroundings and away from the hustle and bustle of city life.
For more information on Mont Rouge visit their website.
Montpellier de Tulbagh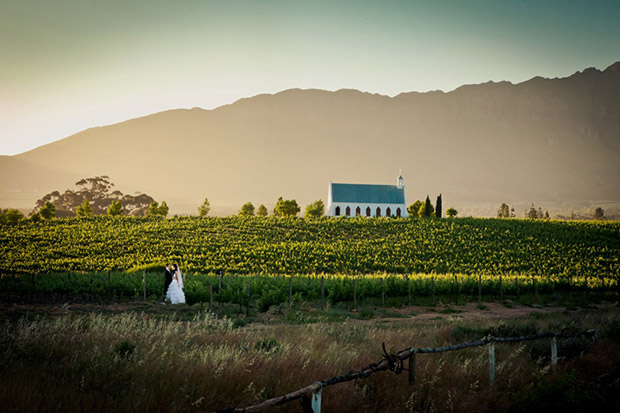 Located in the beautiful Tulbagh Valley along the banks of the Klein Berg River, and surrounded by Obiqua, Winterhoek and Witzenberg mountains, Montpellier Wine Estate is the perfect setting for your wedding. The quintessential Cape Dutch Manor House, endless rolling vineyards, lawns, gardens, hidden paths and tree-lined walkways, provide a timeless and indelible backdrop for capturing your special moments forever.
Having planned numerous weddings at Montpellier, we have experienced the charm of the venue first-hand. Your wedding ceremony can be held in the charming on-site chapel or on the lush lawns of the venue. Your reception then takes place in either the cellar or garden, where guests can dine and dance under the stars.
The venue's dedicated events team will be on hand to cater to your every need, ensuring that whatever the occasion, every moment will be as special as you always imagined. From intimate weddings to extravagant functions, the estate's multiple venues offer a variety of options to suit every need.
For more information on Montpellier visit their website.
Schalkenbosch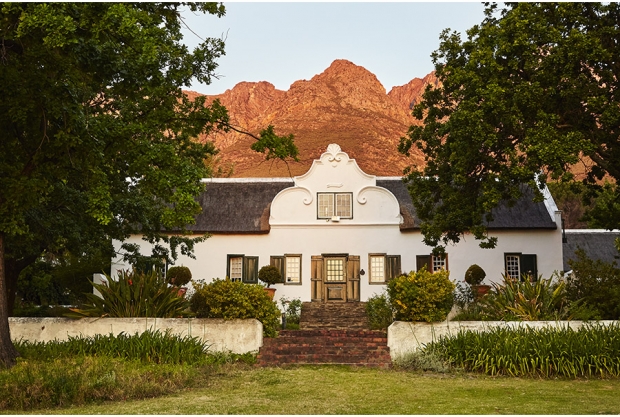 20 km out of Cape Town Schalkenbosch Estate lies adjacent to the historic town of Tulbagh, rich in Cape Dutch heritage and surrounded by majestic mountain scenery.
Schalkenbosch can accommodate indoor and outdoor weddings - both intimate and up to 100 gests seated inside, or up to 180 if the extensive veranda and lawns are enclosed with the use of a stretch tent. The venue's elegant Barn venue - a newly restored original building - provides a charming indoor reception venue. The barn is nestled in a lovely expanse of green lawn at the main entrance to Schalkenbosch Conservation Estate and Vineyards, with beautiful views of the Witzenberg Mountains.
You have the choice of welcoming your guests with pre-drinks under the oaks, having an outside ceremony in the well-established gardens and for true nature lovers, having an unforgettable garden reception with the special ambiance that being in the grounds of an estate over a hundred years old.
For more information on Schalkenbosch see their page on our website.
Roodezand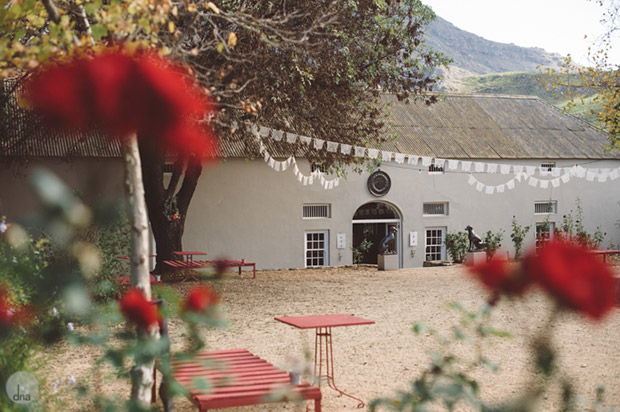 Simple, with the feeling of being in the country, at home. This describes the atmosphere and venue at Roodezand. The building is about 220 years old, to which a touch of French flair has been added to its natural charm. Details like ceiling lights decorated with feathers, mirrors and a working fireplace give it a cosy and unique ambiance. The venue can accommodate between 60 and 150 guests.
One of our favourite features has to be the on-site chapel. Located in the oldest building on the farm with original stonewalls and wooden ceiling beams, the chapel can accommodate up to 120 guests. Add a few candles for a more romantic atmosphere.
For more information on Roodezand visit their website.
Saronsberg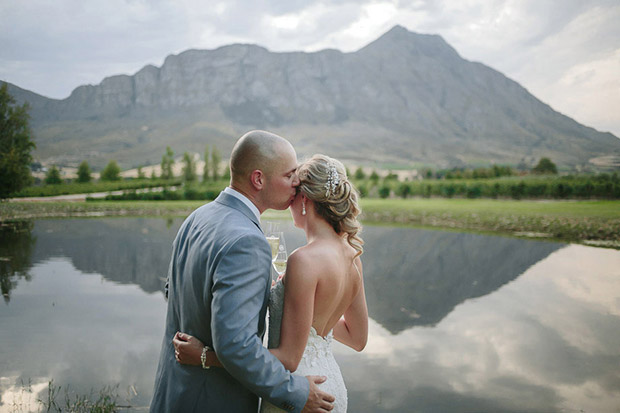 Saronsberg venue - like its wine - embodies class, simplicity and grace. Think of your wedding set on spacious grounds with a majestic backdrop of mountains and trees, providing a private and tranquil setting for you and your guests to enjoy. Saronsberg offers exactly that.
Have your ceremony outdoors under the magnificent oak trees –the perfect setting to let your happy ever after start right... Let the view spoil you with its natural beauty and Saronsberg Mountain mirrored in the estates dam.
Following the ceremony, your guests can enjoy some canapes and cocktails on the sun-dappled green lawns overlooking the surrounding vineyards while you slip away to capture your special day in beautiful settings around our farm.
Dramatic mountain scenery, excellent service, award-winning wine, country hospitality and the charm of Tulbagh is the perfect combination for an unforgettable wedding day.
For more information on Saronsberg visit their website.
Manley Wine Lodge

Say your I Do's on a wine farm, in a stunning Cape mountain valley location, just over one hour's drive from Cape Town. Your wedding ceremony in a beautiful consecrated chapel and your wedding reception in a wonderful multi-beamed ceiling hall spilling out onto wide-open lawns. Then there's your wedding night in either our thatched cottage, complete with large four-poster bed and picture postcard views of the mountains over the water or in our beautiful bridal room. You can do it all at Manley Wine Lodge.
The venues non-denominational wedding chapel is used regularly for both church services and weddings. It seats up to 80 people and is the perfect setting for the perfect ceremony.
Should you be more than 80 people, the venue can arrange a wedding an outdoor ceremony for a larger number of guests on the lawns with a backdrop of the stunning Winterhoek Mountains.
For more information on Manley Wine Lodge visit their website.